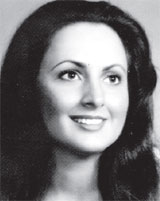 NORTHPORT | Pat Norris Sanford, age 59, of Northport, died March 25, 2011, at UAB. Services will be 1 p.m. Monday at Sunset Funeral Home with Frank Jones and Rod Poovey offi ciating. Burial will follow at Memory Hill Gardens with Sunset Funeral Home, a Dignity Memorial Provider, directing. Visitation will be from 5 to 7 p.m. today at the funeral home.

She was preceded in death by her father, Stanley Norris, and her brother, Michael Norris.

Survivors include her husband, Donald Sanford of Northport, Ala.; her daughter, Lila Katherine Sanford of Tuscaloosa, Ala.; her sisters, Anne Smith (Donnie) of Tuscaloosa, Ala., and Sandra Kizziah of Cottondale, Ala.; and her mother, Beth Norris of Northport, Ala.

Pat was a graduate of Tuscaloosa County High School and the University of Alabama. She was an administrative coordinator of North Harbor at DCH Regional Medical Center and a longtime employee of Pine Valley Retirement Community. She served on the board of directors of Indian Rivers. She was president of NAMI and a member of Calvary Baptist Church.

Pallbearers will be Jeremy Perry, Donnie Smith, Joey Kizziah, Eric Kizziah, Jonathan Kizziah, and David Smelley.

Honorary pallbearers are employees of North Harbor, employees and residents of Pine Valley Retirement Community, Becky Doughty, Mary Alice Blanton, Sue Phillips, Sandra Baker, Dr. Sanjay Singh, members and friends of NAMI, Calvary Baptist Church, and Brenda Lawson.

Condolences may be offered at www.sunsetbrown-funeral. com

Published in Tuscaloosa News on March 27, 2011.

Follow this link to read a Letter to the Editor about Pat Norris Sanford published in the Tuscaloosa News on Friday, May 13, 2011.
http://www.tuscaloosanews.com/article/20110513/NEWS/110519878